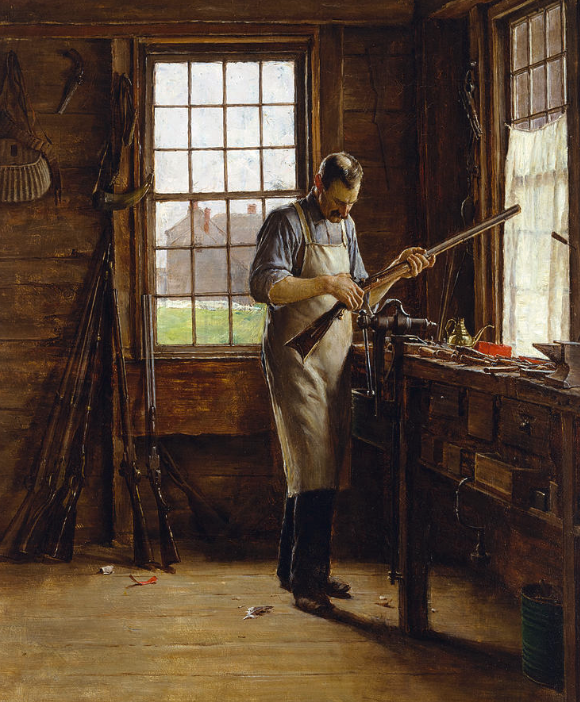 Even Olsen Sollie Wold b.1822 married Anne Olsdatter Gubberud Sundem b.1824 in 1849 in Sør Aurdal. They had atleast 6 children, and emigrated from Norway to America about 1880. They settled in Moline, Rock Island IL. Even Wold seems to be listed sometimes as Ole Wold, and in census 1870 as Evind Wold. Possibly there is a duplicate family.
Anne was born in Vardal in Oppland, and Even was born in Solør in Hedmark. The couple married in Bagn in Sør Aurdal in 1849, and settled in Sør-Aurdal at the place called Wold (Vøll). While living here Even was a gunsmith-apprentice. The first child Anne Mathea born 1849, then a son Olaus in 1852, and the a daughter Inger in 1854.
According to churchrecords, they moved to Christiania/Oslo in 1855. Even is working as a gunsmith-apprentice at the Akershus Fortress Armory in Port of Christiania for several years, and the family is growing. Even is actually mentioned in the history of Akershus Fortress, and in one book he is mentioned as "apprentice no. 26", employed in 1855 until 1876. This fits well with record that Even immigrated to US in 1876. He seemed to have travelled alone, and most likely the family followed later. Anne Mathea and Olaus immigrated together already in 1871.
In the 1865 census everyone in the family is listed with lastname "Olsen", and there are children: Anne Mathea, Olaus, Inger, Emil, Mina Elida, Axel Magnus. In the census for 1875, there are children: Inger, Emiel, Mina and Axel. Olaus is in the census for 1870 listed as a gunsmith aswell.
The farm/place Wold/Vøll was under the farm called Hoff/Høve, which is actually the same place as another family listed in a separate post, the Hoffs. Annes parents was Ole Monsen Qvale and Anne Eriksdatter Sundem. Evens parents was Ole Mikkelsen and Anne Olsdatter.
It has been very difficult to find records for this family in Norway, but after trying some different angles, looking over all findings, I was able to establish a connection when I realized that the first name was EVEN, and that original lastname/birthplace was SOLLIE or SOLØR. I was then able to pinpoint birth 1822 in Grue parish in Hedmark. Missing records are the immigration records at Ellis Island on Canada Archives. The children Ole M and Edvard has so far not been possible to confirm in Norwegian churchrecords. We suspect that these individuals are duplicate records of a family in Minnesota/South Dakota with parents with same name and age. If you can contribute to clues about this family in the Norwegian records, please get in touch.
Family according to confirmed Norwegian Records:
Census records
1865 Oslo, Norway
1875 Oslo, Norway
1880
1910
1920 Moline, Illinois (Minnie)
1930 Moline, Illinois (Inga)
Father: Ole Wold f.1822 m.1850
Mother: Anne Olsdatter Sundem b.1824
Mathilda Wold b.1851, (birth confirmed 1849)
Olaus Wold b.1852, (birth confirmed 1852)
Inga Wold b.1854 d.1939 Moline IL, (we assume that Inga is actually Inger b.1854, same birthdate)
Mina Wold b.1863, (birth confirmed 1861)
Emil Edwin Wold b.1851 in Oslo, d.1906 Moline IL (can we assume Emil Edwin is Emil b.1859? possibly not!)
Edvard Wold b.1858, (not found in any Norwegian records, no suggestion to original birth? unless this Edvard is actually Emil b.1859 in Oslo seen above?)
Ole M. Wold b.1866 d.1945 MN USA, (not found in any Norwegian records, no suggestion to original name/birth?))
The Wolds listed at FamilySearch seem to be 2 families blended together. One family seem to be living in or around Moline, Illinois, while the other is farming in South Dakota and/or Minnesota. It seems that quite possible that someone has assumed that "Ole & Anne Wold" in Minnesota/South Dakota is the same as Even & Anne Wold in Illinois and listed them as one family. The son Ole M Wold b.1866 is not confirmed in norwegian records, and his death is in Otter Tail, MN kind of confirms there must be 2 different families, one with typical city workers, and one with typical farmers.
Clues & Questions
Relevant Links
Hits: 150