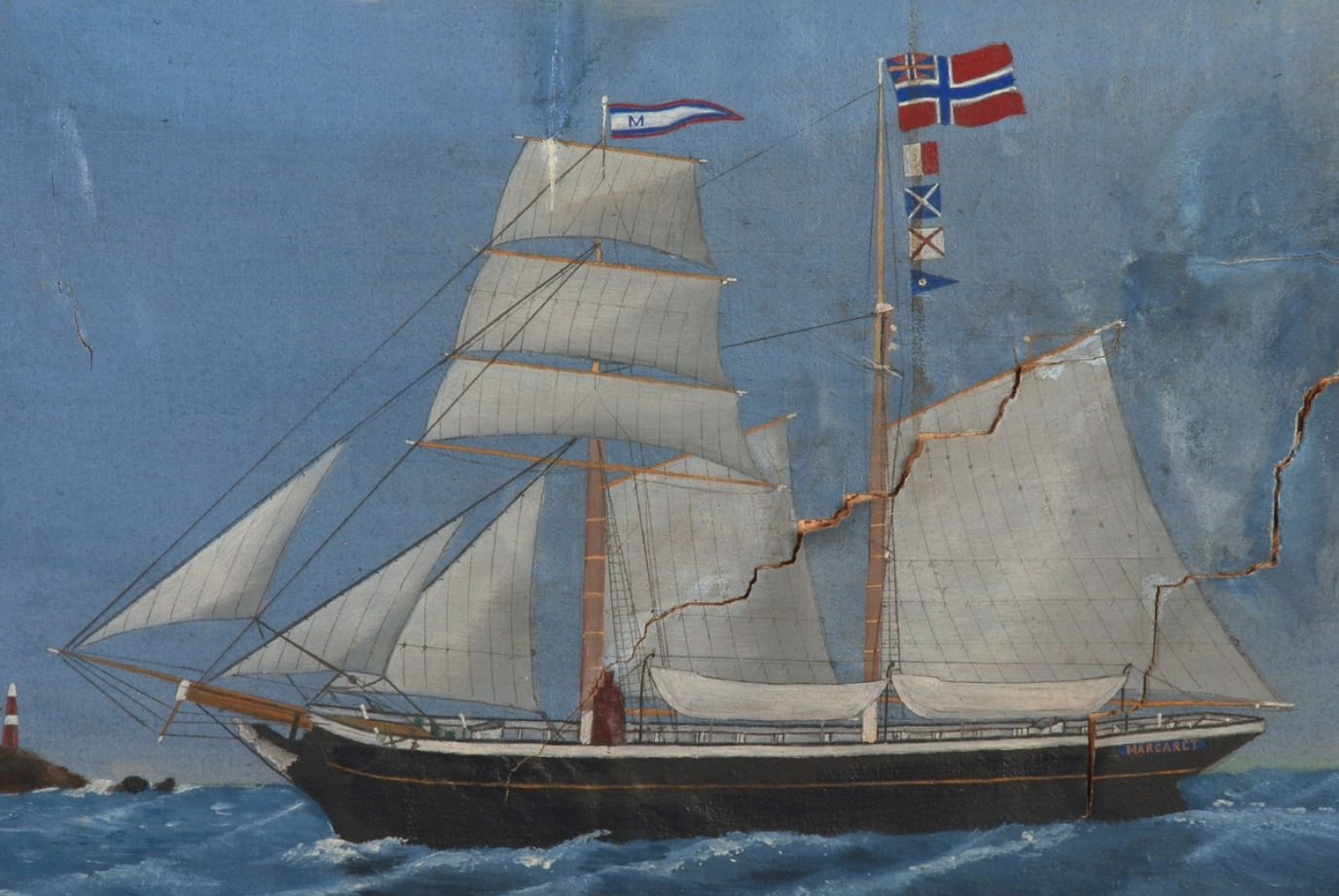 Bottlenosehunter "MARGARET" lost in 1910
The schooner "MARGARET" of Tønsberg sank in the Arctic Ocean in 1910. The ship left Tønsberg in Norway on course for the Artic Sea in March 1910 on hunt for Bottlenose. But this hunting season was much more stormy than usual, and the ship was lost. It took several months before the newspapers picked up on the missing ship, which is was assumed lost with all 15 men onboard. The Captain onboard this season was Hans Anton Paulsen from Tønsberg.
Skonnerten "MARGARET" av Tønsberg forliser i Nordishavet i 1910. Skipet forlot Tønsberg på sin årlige jaktsesong med kurs for Nordishavet i mars 1910 for å drive Bottlenose fangst, slik de hadde gjort siden iallefall 1902. Ombord var noen lokale sjømenn og skipsføreren på denne reisen var Hans Anton Paulsen fra Tønsberg. Utpå høsten blir skipet antatt forlist, da ingen har hørt livstegn fra det.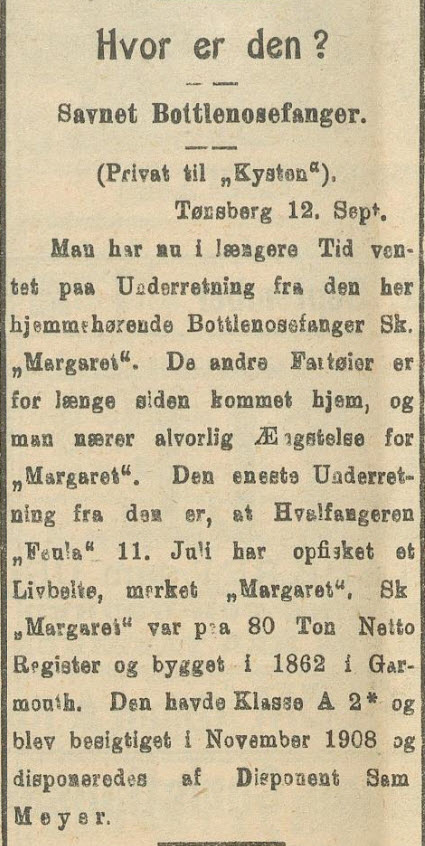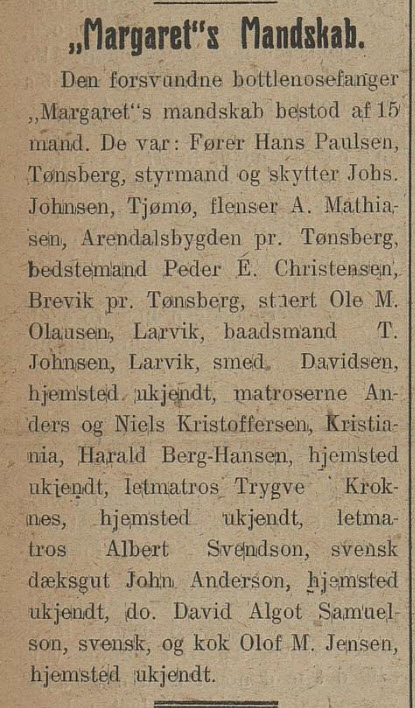 De forliste ombord "Margaret" var:
Fører Hans Paulsen, Tønsberg
Styrmann og skytter Johs.Johnsen, Tjømø
Flenser A.Mathiasen, Arendal
Bestemand Peder E. Christensen, Brevik
Stuert Ole M. Olausen, Larvik
Båtsmann T.Johnsen, Larvik
Smed Davidsen
Matros Anders Kristoffersen, Kristiania
Matros Niels Kristyoffersen, Kristiania
Matros Harald Berg-Hansen
Lettmatros Trygve Kroknes
Lettmatros Albert Svendson, Sverige
Dekksgutt Johna Anderson
Dekksgutt David Algot Samuelson, Sverige
Kokk Olof M.Jensen
Hans Anton Paulsen b.29.09.1863 in Tønsberg was married to Olga Sanne b.18.11.1871. The Census of 1910 shows that Olga was left widowed with 8 children. The father to Hans was Paul Andersen b.1832, and sister was Pauline Andrine Paulsen b.1861. Looking at the seaman protocol, Hans was an experienced sailor, and had worked on the same ship for the hunting seasons 1897,1898 and 1902 through to 1910.
Fører Hans Anton Paulsen var født i Tønsberg 29.09.1863, og var gift med Olga Sanne f.18.11.1871. Ut fra folketellingen som fant sted i 1910, så ble Olga enke med hele 8 barn. Faren til Hans var Paul Andersen f.1832, og han var bror til bl.a. Pauline Andrine Paulsen f.1861. Som det går frem av sjømannsrullen, så var han mønstret på samme skip i Bottlenose fangstsesongene 1897,1898,1902-1910.
Skipsfører Hans Paulsen hadde en betydelig sjømannskarriere:


Lenker:
Henny Otilie Paulsen b. 22 Jun 1891 m. 1913 Alf Johan Axel Fahlberg b.1890
Aagot Olisie Paulsen b. 12 Apr 1893 m. Arthur Larsen b.1893 (USA)
Ruth Eleonore Paulsen b. 24 Nov 1894 d.1917
Valborg Paulsen b. 29 Dec 1895 m. Arnfinn Medalen
Ragna Secilie Paulsen b. 9 Sep 1897 m. William H. Bruus b.1893 (USA)
Thordis Olea Paulsen b. 27 Jun 1899 d.1900
Hans Kristoffer Paulsen b. 8 May 1903 m. Helen Bengtson (USA)
Aage Sanne Paulsen b. 11 Jun 1905 d.1975 m. Randi Rønning
Ansgar Paulsen b. 16 Apr 1909 d.1909
Tordis Paulsen b. 16 Apr 1909 (destiny unknown?)
Hits: 122